How the Mullikin Group helped a large law firm reduce team friction using the yüMIvü for High Performance Teams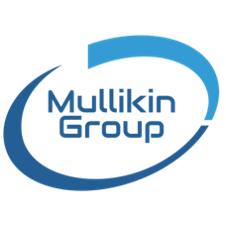 When administrative leaders of one of American Lawyer magazine's Top 100 law firms struggled to collaborate, they turned to the Mullikin Group for help. The Mullikin Group is a leading executive coaching and leadership development group based in Kansas City, Mo. The firm provides clients with a balanced team of experienced and enthusiastic coaches as well as dedicated career transition consultants to deliver high-quality services.
Marnette Falley, an executive coach for the Mullikin Group, developed a consulting plan to address the conflict, which included proven strategies she and her colleagues have used to guide hundreds of executives. But she added a new tool to the law firm engagement: The yüMIvü People Chemistry Platform.
By identifying how each member is uniquely wired, the yüMIvü Friction Finder showed the team how to navigate natural friction points – saving time, improving collaboration, and making the team more productive.
The Challenge
"This was a talented group of leaders with major responsibilities including new business development and frequent client interaction," Marnette said. "But when it came to working together, there was friction."
According to a joint study by Grammarly and The Harris Poll, poor communication causes conflict and has a massive impact on productivity and morale. The study estimates that businesses lose up to $1.2 trillion annually due to ineffective communication.
The Solution
Marnette would begin the engagement by asking the team to take an honest look at their workflows, meeting style, and communication traits – at the individual, one-to-one, and team level. She heard about yüMIvü from a colleague and decided to integrate it into her coaching plan.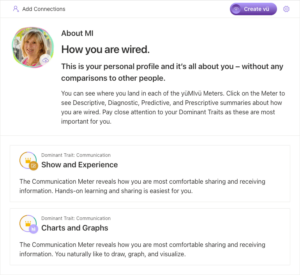 yüMIvü is a new, socially enabled app that identifies natural friction points between teammates and delivers real-time insights to help how people work better together. By taking a 10-minute or so assessment, users learn how they are wired to engage with others and what they prioritize. Insights are based on a mix of proven behavioral sciences.
Once they create a yüMIvü Profile, users can invite others to share and compare their profiles and get yüMIvü insights about how they may need to change their approach for friction-free collaboration. Unlike personality profiles, yüMIvü focuses guidance on moment-in-time points of team engagement, updating insights as soon as group makeup changes.
Finding the root cause of friction
In preparation for the kick-off workshop, each person created a yüMIvü profile. The team then discussed everyone's individuality, and how they can tweak their approach to find common ground in seven categories:
Communication
Approach
Consistency
Perspectives
Flexibility
Focus
Multitasking
Marnette heard several people say, "Oh yeah, I can see that!" She said the team immediately recognized several key insights about themselves as individuals and their group dynamic."Once they understood themselves, they could start comparing their profiles with others to find the common ground needed to collaborate more successfully," she added.
Living on an island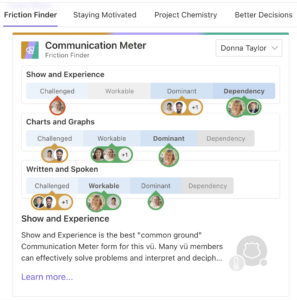 yüMIvü revealed that one person was on an island. "She was very insightful and had a lot to contribute, but she was sensitive to the fact that the others' minds already seemed made up," Marnette said. "This caused her to hold back her ideas."
At the same time, yüMIvü revealed that the rest of the team tended toward tunnel-vision, holding more preconceived and narrower perspectives. They often arrived at meetings with an outcome already in mind, which they would work back from as new ideas were presented.
This resulted in the one team member retreating because her natural thought pathway was to start with a broad list of options and narrow down from there. yüMIvü gave team members the awareness they needed to think about the same thing differently and provided insight on how to draw on the strengths of the full team.
yüMIvü insights helped the outlier see that her inclination to offer alternative ideas can be a positive. And her teammates recognized that she might offer a solution they hadn't considered.
"yüMIvü gave her a bridge 'over to the mainland,'" Marnette said. "Ever since, she has leaned in differently. There's also been a change in her teammates' perception of her."
Ready. Action. No aim.
Like most of her team, the group leader had a "Let's Go!" mindset. She was naturally wired to hold predetermined ideas about outcomes. The challenge: She moved so quickly so the team was often confused about the next steps.
"After a meeting when she would leave the room with a clear direction in her own mind, the others would argue about how she wanted them to proceed," Marnette said.
yüMIvü provided insights on how they could individually and collectively manage up and help their leader learn to press pause and communicate her direction in a way everyone could understand.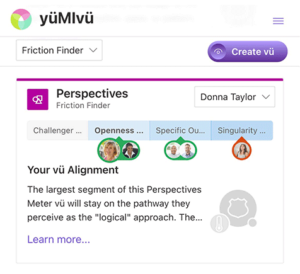 Additionally, yüMIvü helped the leader recognize that her own tendencies were hindering collaboration. She decided that she was not always the best choice to lead a large group and that collaboration would increase if she asked someone else to do it.
The Results
Now the law firm's administrative team is much more fluid and open, according to Marnette. "Insights from yüMIvü made a huge difference in this team's ability to collaborate, make better decisions, and work around natural friction points," she said. "I've also learned about my own 'wiring,' which will make me a better consultant and teammate."
To learn more about yüMIvü from Collaboration Insights, visit www.yumivu.com.
Please Share This